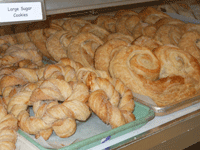 In 1952, Domenico and Lucille Serpe established Serpe & Sons Bakery in Wilmington Delaware on N. Madison St. The small bakery started producing bread and rolls and later added cakes, cinnamon buns, and tomato pie. The Serpes' older sons made up most of the staff at the time. Serpe's has serviced many local restaurants and clubs with its single delivery truck.
By 1964, the bakery had outgrown its location on Madison Street and moved to their current location at 1411 Kirkwood Highway.  The move made it possible to use more advanced equipment and offer an increased variety of products. We currently have 3 ovens that run nonstop to keep up production.
Today, Serpe & Sons Bakery has 5 trucks that deliver all over New Castle County and on into some parts of Pennsylvania and Maryland. Local customers include Casapulla's, Capriotti's, Attillio's and Mrs. Robino's just to name a few. We are also proud to supply rolls for many local festivals and carnivals during the summer months. Our busiest summer week comes with the St. Anthony's Italian Festival when we supply sandwich rolls to all of the cafes, Italian Bread to the Spaghetti Dinners in the Ballad Room, and pastries to two cafes and one street booth. The holidays are very busy, especially Christmas Eve when we average close to 1,000 orders each year.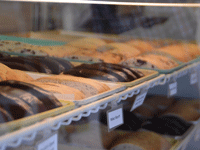 The Serpe family is proud to have been in business for over 70 years, and to have had the support that the entire community has given them. After Domenico and Lucille passed away, the business was passed down to four of their sons; Tony, Richie, Tommy and Dominic. Three members of the third generation are also involved full time in the day-to-day operations. "Being a family business is a hands on business every day" says Dominic. "This is different from chain-link business. When an owner's name is on the business, there is likely more quality control because I am putting my name on my product."
On Dec 24, 2015, right after the bakery closed for the holiday, a devastating fire erupted, closing the entire business and putting 46 people out of work.  Thank God no one was injured, and the bakery was able to rebuild following ten months of construction.  A special day of events was held on October 28, 2016 to commemorate the Grand Reopening including a blessing of the building, a ribbon cutting ceremony, and a WDEL live broadcast.  A special American Flag flew over the Capital, and will be displayed in the renovated store for many years to come.  Several updates were made to bring Serpe's Bakery into the 21st Century including a new Point of Sales System, a new Bridal Consultation Room in the retail store, new roof shingles, and an expanded store menu featuring grab and go items from outside vendors such as Talluto's pasta, BirchTree Bakers gluten free products, and DiBruno meats and cheeses.
The bakery celebrated 70 years in business on March 1, 2022. A small celebration was held in the store, but an official celebration is still anticipated in the spring of 2022. Keep checking Facebook for a special announcement which will include a day of special events, giveaways, guest appearances, and more!