Welcome! Benvenuto! Whether you have a taste for hearty breads or delectable sweets, at Serpe & Sons Bakery we're sure to have something special just for you!
Make an everyday meal special with our savory breads and rolls, or make a special meal SPECTACULAR with our pastries and desserts.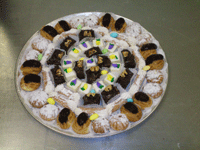 At Serpe & Sons Bakery, we specialize in custom cakes for all occasions. Stop in and choose from over 100 scenes or bring us any picture and we will create an edible image.
Brides! Let Serpe's Bakery create something truly memorable for your special day. We are known as wedding cake specialists, and it's a reputation we take very seriously.
"Voted 2001 – 2011 Readers Choice Best Bakery" by The News Journal®