Welcome! Benvenuto! Whether you have a taste for hearty breads or delectable sweets, at Serpe & Sons Bakery we're sure to have something special just for you!
Governor Carney issued a fourth modification to his State of Emergency this evening, which will allow only essential businesses to remain open after 8:00 am Tuesday morning, 3/24/20. We fall under his definition of an essential business under food and agriculture as a restaurant carry-out operation, as well as a food manufacturer and distributor. We will remain open during our normal hours of operation at this time, however, this definition of an essential business comes with additional responsibilities, which can be found in Governor Carney's official modification. We humbly accept the responsibilities that the governor has bestowed upon us, and we take each of these responsibilities very seriously. A memo was issued to all employees two weeks ago with reminders of several ServSafe procedures as enforced by the Department of Health. Another memo will be issued to all employees tomorrow specifying the responsibilities of an essential business as defined by Governor Carney, as well as the importance of following those responsibilities. Public safety, and the safety of our employees, is a top priority. We are happy to be able to provide our many specialty items in our own retail store, as well as supply our bread and rolls to several sandwich shops, pizza shops, and restaurants. Thank you for your support during this time.
Make an everyday meal special with our savory breads and rolls, or make a special meal SPECTACULAR with our pastries and desserts.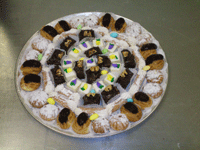 At Serpe & Sons Bakery, we specialize in custom cakes for all occasions. Stop in and choose from over 100 scenes or bring us any picture and we will create an edible image.
Brides! Let Serpe's Bakery create something truly memorable for your special day. We are known as wedding cake specialists, and it's a reputation we take very seriously.
"Voted 2001 – 2011 Readers Choice Best Bakery" by The News Journal®